Nathan Lanier, known for his music in film, television, and video games, recently finished scoring Mattel's live-action feature film Max Steel which is based on the popular DisneyXD animated series and toy line. He is currently scoring Universal's Jem & The Holograms, directed by Jon M. Chu, which will hit theaters worldwide October 2015.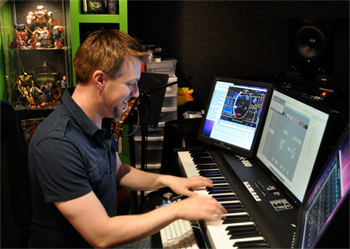 Lanier has scored over 20 feature films, as well as the first live-action Halo series Halo 4: Forward Unto Dawn, produced by Microsoft's 343 Industries and directed by Max Steel director Stewart Hendler.
Well-known for his unique cinematic dance music and themes, Lanier's music has been featured on Emmy-Nominated dance performances on So You Think You Can Dance, Dancing With The Stars, Live To Dance, Conan, Ellen, and is among the top chosen music for choreographers and dancers alike for competitions and performances worldwide. Performances include the Glee Live Tour, So You Think You Can Dance Live Tour, ISU Wold Figure Skating Championships and the Sochi 2014 Winter Olympics. Lanier's signature hybrid style of cinematic score and urban dance can be heard in his scores for Jon M. Chu's The LXD (Legion of Extraordinary Dancers) series and Justin Bieber's Believe. Lanier also music directed a performance of his original music written for Chu's LXD talk/performance at TED.
Successful ad campaigns featuring Lanier's music include Microsoft's "Empower" Super Bowl commercial and American Express Oscars commercial "Natalie Young", and for LA Clippers, and LG. Other memorable trailers and logos include HBO's Feature Presentation Logo arrangement and CBS Evening News arrangements for Joel Beckerman's ManMadeMusic.
Lanier began studying violin at the age of four and has been performing and composing ever since. Lanier holds an M.A. in Composition and Film Scoring from NYU and a B.M. in Violin Performance from Mannes College of Music in New York.
In addition to composing, conducting, and orchestrating, Lanier plays multiple instruments including violin, viola, piano, and guitar. He has performed on Dancing With The Stars, the Tonight Show with Josh Groban, and with artists such as Kanye West, Stevie Wonder, Isaac Hayes, John Williams, Julie Andrews, Take 6, Michael Bublé, and Smokey Robinson.